Dem Congressional Candidate Demands Bob Beckel Resign for 'Chinamen' Comment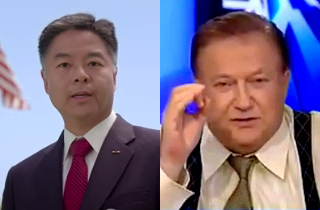 California State Senator Ted Lieu (D) called on The Five cohost Bob Beckel to resign Monday, after Beckel's comment last week about "Chinamen."
"As usual, we bring them over here and teach a bunch of Chinamen — Chinese people — how to do computers and then they go back to China and hack into us," Beckel said on the roundtable show, on which he is the purported liberal. Beckel was referring to reports of Chinese hackers breaking into government databases.
"We should all be alarmed by the racist, xenophobic comments by Fox News host Bob Beckel," Lieu said in a statement. "His comments have no place in America, and this is at least the second time he has used racial slurs. He must resign immediately."
RELATED: Beck Mocks HuffPost 'Gasp': You're Shocked Bob Beckel Said Something Offensive?
The previous incident occurred last year, when Beckel said that after a dip in a pool his "eyes blew up" and "it made me look Oriental."
"I am one of those 'Chinamen' with 'Oriental' eyes that immigrated to America and majored in computer science," Lieu said. "I also served on active duty in the United States Air Force and continue to serve my country in the Reserves. And today, as an American and as a California state senator, I call on Mr. Beckel to resign."
Lieu is running to replace retiring Congressman Henry Waxman (D-CA); his current district includes the South Bay suburb of Torrance, which has a significant Asian population, and is where Mark Wahlberg's character opens a carpet store at the the end of Three Kings.
UPDATE — 2:20 p.m. ET: Fox says Beckel will address his comments on Monday's edition of The Five.
Watch the offending video below, via Fox News:
[h/t Los Angeles Times]
[Image via Ted Lieu]
——
>> Follow Evan McMurry (@evanmcmurry) on Twitter
Have a tip we should know? [email protected]