Dem Congressman Likens Tea Party Rival To Kid Who Leaves Baseball Game If No One Does What He Wants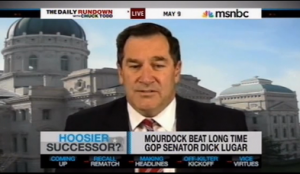 Daily Rundown host Chuck Todd spoke with Indiana Democratic Congressman Joe Donnelly Wednesday morning, asking him about his new senatorial rival, Richard Mourdock, who recently beat out Sen. Richard Lugar in his state's primary.
Todd asked Donnelly about compromise and his thoughts regarding Nancy Pelosi as House Speaker.
RELATED: Soledad O'Brien Presses Richard Mourdock Over His Refusal To Compromise In The Senate
"Well," said Donnelly, "the message I was trying to send was I thought the Democratic leader should be someone who was more in the middle. I respect Nancy Pelosi, but I thought that we needed someone who could be a person who epitomized the vision working together, bipartisanship. I'm a blue dog Democrat, I know it's a technical term, but what it means is trying to work with others, strong national defense, standing up for our veterans and balanced budgets."
"Do you believe President Obama is too liberal for your state as well?" asked Todd.
'Well, you know what I think, I think that we had talked about this a week or two ago," Donnelly replied. "President Obama, the first thing he did after he became president was come out to Indiana. He came out to talk to Hoosiers about jobs, about trying to make our state's unemployment get lower and trying to work together and I was there. And so, when the President talks about issues like jobs and working to the and listening to Hoosiers, I'm all for that. The President helped with the auto industry effort. I was very, very helpful in that. And it should be noted Richard Mourdock tried to single-handedly destroy the automotive industry, which results in over 100,000 Hoosier jobs. He would have single-handedly put our state in a depression if he had been able to do what he wanted to do."
His focus, he added, is on jobs, despite Mourdock saying he wasn't hired to create jobs. He also likened his rival to a kid who leaves a baseball game with his ball or bat because no one wants to play the way he wants to.
Have a look at the interview, via MSNBC:
Have a tip we should know? tips@mediaite.com