Dem Congresswoman Holds Up Vodka, Steak, and Caviar to Blast GOP on Food Stamps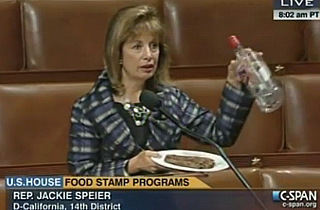 Holding up a bottle of vodka, a plate of steak, and a jar of caviar, Rep. Jackie Speier (D-CA) tore into the Republicans for making $40 billion worth of cuts to the federal food stamp budget while living "lavish" lifestyles often financed by taxpayers and other groups.
"In my district, California 14, we have about 4,000 families who are on food stamps, but some of my colleagues have thousands and thousands more," Speier began her speech from the House floor. "Yet they somehow feel like crusaders, like heroes, when they vote to cut food stamps. Some of these same members travel to foreign countries under the guise of official business."
She then explained with the use of the food props: "They dine at lavish restaurants, eating steak, vodka and even caviar. They receive money to do this. That's right. They don't pay out-of-pocket for these meals."
Speier cited several unnamed members of Congress who've gone on sponsored trips and used tax dollars to finance their food and lodging. "He probably drank a fair amount of vodka and probably even had some caviar," she said of one congressman's $4,000 food budget on a trip to Russia.
Citing another example where 20 members of Congress went to Ireland and received $166 a day for food, Speier lamented:
"They received almost $200 for a single meal only for themselves. Yet, for them the idea of helping fellow Americans spend less than $5 a day makes their skin crawl. The families of veterans, of farmers, of the disabled, of the working poor are not visible to them, not even when they are their own constituents."
BuzzFeed identified several of the congressmen referenced in Speier's speech:
[T]he member of Congress who took the trip to Argentina who spent $127 was Rep. Frank Lucas of Oklahoma and the trip was sponsored by the Franklin Center. The member of Congress who took the trip to Russia was Rep. Steve King of Iowa. The 20 members of Congress who went to Dublin can be found here. The trip, sponsored by the Franklin Center, had an estimated budget of $450,000 to $750,000 according to Roll Call.
Watch the speech below, via C-SPAN:
[h/t BuzzFeed]
— —
>> Follow Andrew Kirell (@AndrewKirell) on Twitter
Have a tip we should know? tips@mediaite.com