Dem Recalled Over Gun Control: Opponents Did 'Good Job of Suppressing the Vote'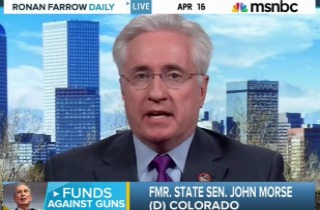 Former Democratic Colorado state Senator John Morse, the former Senate President, was recalled from office last September after an effort organized by opponents of new Colorado gun laws passed following the 2012 mass shooting at an Aurora movie theater. Appearing on MSNBC, Morse urged Democrats to continue to support stricter gun laws and said his ouster was due to a variety of fluke occurrences and his opponents' proficiency at "suppressing the vote."

"Do you think that other Democrats back gun safety measures at their own political peril?" MSNBC host Ronan Farrow asked Morse.
"I don't," the former lawmaker replied. "I think what happened in Colorado was extraordinarily unique."
"You have to keep in mind that, in my recall election, nearly 80 percent of the registered voters did not cast a ballot," he continued. "It was at a bizarre time. It was a special election that nobody was really paying attention to. Everybody figured, you know, he's going to be fine because he believes in the community and he does the right things. And people just didn't show up."
RELATED: Two Democratic State Senators Lose Seats in Colorado Gun Control Recall
"They were able to eliminate mail-in ballots," Morse added. "The early voting centers, three out of four of them were outside my district, and I live in a poor district where people were having to take the bus to vote."
"So, they did a really good job of suppressing the vote," Morse charged.
He conceded that it was "true" that he lost his office as a result of his support for stricter gun laws, but he says that this is unlikely to be the case for other Democratic office seekers.
Watch the clip below via MSNBC:
[photo via screengrab ]
 — — 
>> Follow Noah Rothman (@NoahCRothman) on Twitter
Have a tip we should know? tips@mediaite.com