Dem Rep. Claims Benghazi Witness Changed His Story: GOPers Were 'Trying To Put Words In His Mouth'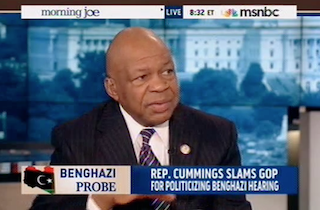 Rep. Elijah Cummings (D-MD) paid a visit to Morning Joe to discuss this week's news surrounding Benghazi — which included the hearing and this morning's story about the edited talking points. Amid the panel discussion, Cummings spoke specifically about one of the witnesses, alleging that Republicans tried to change his story in a way that contradicted his sworn testimony.
Asked what's next, Cummings (who, you may recall, criticized GOP Rep. Darrell Issa for "politicizing" Benghazi during Wednesday's hearing) said it was "a search for the truth." Referring to one of the witnesses who testified at this week's hearing, Cummings said, there is sworn testimony from Gregory Hicks that said nobody coerced him or tried to change his story.
"You all reported on this show that Cheryl Mills was hollering at him. He never said that," Cummings said. "But the interesting thing is, in the hearing, one of our members tried to put the words in his mouth that was the opposite of what he just testified to in a sworn testimony a few days before. […] So when Republicans do that, it takes away from our credibility."
At that point, Joe Scarborough interjected to question whether Cheryl Mills, top aide to Hillary Clinton, never contacted Hicks to express dissatisfaction with his raising questions and speaking up. He pointed to the story about the incident in the New York Times, reminding Cummings that the Times isn't quite a right-wing outlet.
"Are you telling me Mr. Hicks changed his story?" Scarborough pressed.
"That is exactly right," Cummings replied.
"I don't blame him," Cummings added. "I blame the Republicans on our committee trying to put words in his mouth. And we put out a piece yesterday to show what he said in sworn testimony on April 11th before a Republican investigator and then what he said at the hearing. But again, the Republicans were trying to get him to say things."
Watch below, via MSNBC:

Have a tip we should know? tips@mediaite.com