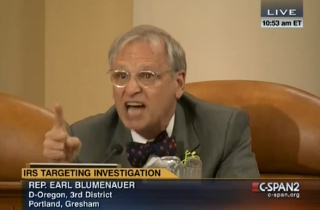 Friday's House Ways and Means Committee hearing on the lost Internal Revenue Service emails has been highly contentious, largely when a Republican lawmaker takes the mic to grill IRS commissioner John Koskinen. One Democratic lawmaker also generated some controversy by using his allotted time to profusely praise the commissioner and his agency, while railing against IRS budget cuts and the government shut down.

"I'm surprised anybody takes this job," Earl Blumenauer (D-OR) told Koskinen, "based on the treatment that has been accorded to people that have better things to do with their lives and had credible careers and a stepped into difficult circumstances."
He then thanked the commissioner for overseeing a workforce that, "since I've been in Congress [has] shrunk [by] 25,000 employees, 10,000 in the last four years, but the Congress, in it's wisdom, my Republican colleagues are cutting your budget."
Blumenauer suggested that part of the problem is Congress having not gotten their jobs done in time (see: government shutdown), and told Koskinen that it's "condescending" for his Republican colleagues to ask the agency to "answer questions for the situation that the Congress has made worse and has systematically assaulted the IRS in its capacity to function."
"What did we do in the government shutdown?" he continued. "What business furloughs its accounts receivables department? Not one that stays in business very long."
Blumenauer then reached back into history to note that Republican presidents, including Abraham Lincoln, Teddy Roosevelt, and Howard Taft supported an income tax and therefore the healthy existence of the Internal Revenue Service.
Watch the full speech below, via C-SPAN2:
— —
>> Follow Andrew Kirell (@AndrewKirell) on Twitter
Have a tip we should know? tips@mediaite.com