Dem Rep.: Delayed Vet Benefits 'Consequence' of 'Trying to Enforce the Law of the Gov't Shutdown'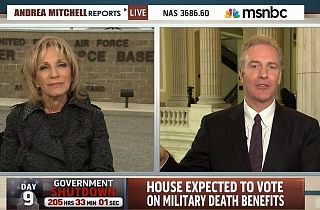 Rep. Chris Van Hollen (D-MD) was pressed on Wednesday by MSNBC's Andrea Mitchell to explain how the White House was not aware that families of veterans killed in action would be unable to access their death benefits during government shutdown. Van Hollen insisted this is another "unintended consequence" of the shutdown which is now law and being enforced by the president.

"The Pentagon was warning people," Mitchell began in a question about how the White House failed to anticipate the delay of death benefits during a shutdown. "There are republican colleagues, [Rep.] Duncan Hunter (R-CA) and others, who say this is an overly narrow interpretation by the controller, and the lawyers, and the attorney general — all the way up to the attorney general."
RELATED: McCain: We Should Be 'Embarrassed' About Shutdown, GOP Pushed 'False Premise' on Obamacare
"According to the Pentagon, that Eric Holder signed off on this," she continued. "How can one lawyer say that this was not covered under the other legislation that was passed, the small legislation to fix shutdown problems, and how could the white house have not been aware?"
"This is another situation where, you know, our Republican colleagues vote to shut down the government — they keep the government shut down by refusing a full vote in the House — and say they're shocked that there are these unintended consequences when the administration is trying to enforce the law of the government shutdown," Van Hollen replied.
"Again, the fastest way to remove all these problems would be to have that vote today and get it passed," he continued. "Every day you're going to find more and more unintended consequences."
Watch the clip below, via MSNBC:
[Photo via screen grab]
— —
> >Follow Noah Rothman (@NoahCRothman) on Twitter
Have a tip we should know? tips@mediaite.com