Dem Rep. During Obamacare Debate: 'Haven't Seen So Much Panic on This Floor Since 9/11'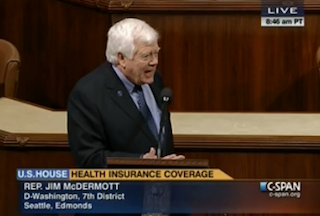 Rep. Jim McDermott (D-WA) attempted to calm the "panic" among his colleagues on both sides of the aisle Friday during the House debate on the Affordable Care Act. "Mr. Speaker, my mother used to say, patience is a virtue," McDermott said to start his two minute remarks. "I haven't seen so much panic on this floor since 9/11."
Speaking for his home state, McDermott noted that Washington's governor and insurance commissioner have already said they will not implement the House's proposed "Keep Your Health Plan Act." If the bill passes, McDermott argued, "there will be nothing but confusion."
In an unusual move for a Democrat, McDermott claimed that the GOP-sponsored bill amounts to "socialism" because it mandates that the insurance companies sell specific policies to people for next year.
"I can't believe what I'm hearing," he said. "I thought the Republicans believed in the free enterprise system. This is socialism. This is government saying to insurance companies, 'You must sell a policy to somebody next year that you sold to them this year. When did we shift on the Republican side to the Congress telling an insurance company who they have to sell a policy to or what's in the policy?"
"Our bill does not say 'must sell,'" Rep. Fred Upton (R-MI), who has been the driving force behind the bill said, interrupting McDermott's remarks.
"I don't understand, the free enterprise system is lions, and they're eating antelopes," McDermott concluded. "I urge a no vote on this, because you're going to create endless confusion in this country in the insurance market."
While Upton's legislative fix to Obamacare is similar to the administrative one President Barack Obama announced Thursday, the president has vowed to veto the bill claiming it "threatens the health security of hard working, middle class families." While Obama's fix simply allows existing policy-holders to keep their current plans, the GOP bill would allow insurance companies to sell those plans to new customers.
Watch video below, via C-SPAN:
[photo via screengrab]
— —
>> Follow Matt Wilstein (@TheMattWilstein) on Twitter
Have a tip we should know? [email protected]