Dem. Rep. Goes Off During Obamacare Hearing: 'I Will Not Yield to This Monkey Court'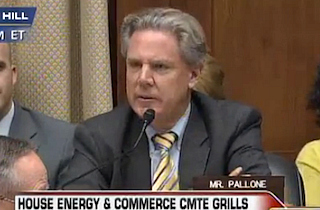 During the House Energy and Commerce Committee hearing on the Affordable Care Act federal exchange website on Thursday morning, Representative Frank Pallone Jr. (D-NJ) severely castigated Representative Joe Barton (R-TX) for inaccurately describing a privacy requirement in the law, eventually calling the entire hearing a "monkey court."
Barton had just questioned Cheryl Campbell, the senior vice president of CGI, one of the two primary contractors that built the federal exchange website, about whether the privacy components of the site were compliant with the Health Insurance Portability and Accountability Act (HIPAA), which in part regulates privacy concerns in the health care industry.
"I started out in my opening statement saying there was no legitimacy to this hearing, and the last line of the questioning certainly confirms that," Pallone said. "HIPAA only applies when there's health information being provided. That's not in play here today. No health information is required in the application process. And why is that? Because pre-existing conditions don't matter. So once again, here we have my Republican colleagues trying to scare everybody—"
"Will the gentleman yield?" Barton interrupted.
"No, I will not yield to this monkey court or whatever this thing is," Pallone responded.
"This is not a monkey court," Barton replied. "Protecting American citizens is a legitimate concern of this committee."
"There is no health information in the process," Pallone continued. "You're asked about your address, your date of birth. You are not asked health information. So why are we going down this path? Because you are trying to scare people so they don't apply, and so therefore the legislation gets delayed, or the Affordable Care Act gets defunded, or it's repealed. That's all it is, hoping people won't apply."
Watch the full clip below, via C-SPAN:
[Image via screengrab]
——
>> Follow Evan McMurry (@evanmcmurry) on Twitter
Have a tip we should know? tips@mediaite.com