Dem Rep: GOP Wants To 'Go Back To The Days Of Coat Hangers' With Abortion Bill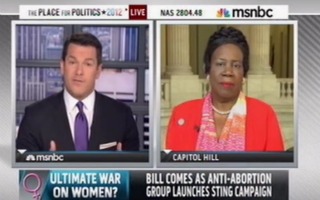 Rep. Sheila Jackson Lee (D-TX) appeared on MSNBC with anchor Thomas Roberts on Thursday where she denounced House Republican efforts to pass a bill that would make it illegal for abortion providers to offer that service to women seeking gender-specific abortions. Lee said that the Republican party in Congress wants to go "back to the days of coat hangers" with this bill.

RELATED: NY Times Buries The Lede: Anderson Cooper's Ratings Surge At 8PM
Roberts asked if the bill was a genuine attempt to curb the practice of abortion based on the gender of the fetus or if it was a veiled effort to defund Planned Parenthood.
"The women in Texas are particularly victims," said Lee. "It's the world. It's the holistic approach of coming after women."
Lee said that "Planned Parenthood is fighting for its life," and their bill is part of a continuing effort by Republicans to "go after women."
"No one – I have been an advocate of opposing forced abortions in China," said Lee. "Obviously, I believe in a different approach. But I cannot in any way find in this bill any legitimacy by criminalizing and incarcerating doctors."
"We're going back to the days of coat hangers," said Lee. "That's what they want to do. They want to criminalize doctors."
Lee said that this bill would be particularly difficult to enforce and, if it was enforced, would only target doctors and not the abortion seeker.
Lee said that there needs to be an effort to educate people about the "value of girls" and "join in with the human family." She added that the GOP needs to end their "war on women."
Watch the segment below via MSNBC:
Have a tip we should know? tips@mediaite.com