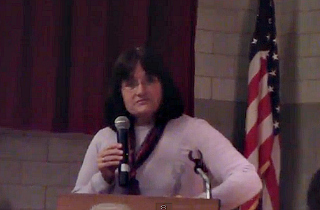 Video has emerged of Rep. Ann Kuster (D-NH) finding herself in an uncomfortable situation during a town hall event last month. The Democratic lawmaker had shrugged off questions about the 2012 attack on the American diplomatic compound in Benghazi, Libya, causing members of the audience to heckle her and press for answers.

After reading off a written question regarding Benghazi, the lawmaker told the crowd: "I'm certainly not here to talk about it, we're here to talk about the Middle East."
In response, a few attendees shouted that Libya is in the Middle East; another responded that it's in Africa. Either way, Kuster rejected the question on her belief that "it's a Senate thing" to investigate the attacks. "I don't think we have anything about that in the House," she said, prompting attendees to mutter that the House has similar proposals.
Eventually a staffer came over to the podium and tried to redirect the meeting. "There are a lot of different ideas and a lot of different opinions here," he said. "So, we're going to stick to the format of answering questions [inaudible] rather than get into a discussion that goes awry."
Kuster's office released the following statement in response to the initial coverage of her remarks:
Like all Americans, I was horrified by the tragic attack on our Embassy in Benghazi that killed four patriotic Americans. Our focus must remain on finding those responsible, bringing them to justice, and taking every necessary step to prevent an attack like this from ever happening again.
Watch below, via YouTube:

[h/t TheBlaze]
— —
>> Follow Andrew Kirell (@AndrewKirell) on Twitter
Have a tip we should know? tips@mediaite.com