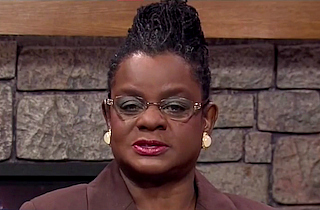 Representative Gwen Moore (D-WI) appeared on MSNBC's Jansing & Co. Monday morning to describe the 40-hour round trip she took seated next to Senator Ted Cruz (R-TX), who flew with the CODEL to South Africa for Nelson Mandela's memorial service.
Moore said there was "a lot of curiosity" about the conservative lawmaker's presence, as many of the other passengers were members of the Congressional Black Caucus who had been active in the fight against apartheid. "I do think that one of the benefits of these very close quarters is that you are forced to have conversations outside of the context of your talking points," Moore said. "I think it gets very, very uncomfortable on both sides to just stick to the script. And you're very much challenged on those things."
RELATED: Ted Cruz Wants You to Know He Walked Out on Castro's Mandela Speech
Host Chris Jansing asked if one of those challenges involved Obamacare, which Cruz had fought to point of a faux-filibuster and a government shutdown.
"The Affordable Care Act, he sort of stuck to his guns about it," Moore said. "But I do think that we were able to really break through some of the talking points and really challenge them." Still: "I am not sure that I changed his mind at all. As a matter of fact, at the end of the trip he asked me, 'Was I ready to become a Republican?'"
Watch the full clip below, via MSNBC:
[Image via screengrab]
——
>> Follow Evan McMurry (@evanmcmurry) on Twitter
Have a tip we should know? tips@mediaite.com