Dem Rep. to Issa: You're Not Going to Find a Benghazi 'Stand Down' Order in Hillary's Emails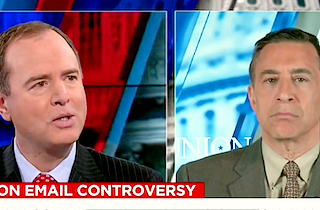 Representative Adam Schiff (D-CA) told former Oversight Committee Chair Darrell Issa (R-CA) on State of the Union Sunday morning that the subpoena issued last week for Hillary Clinton's emails was unnecessary, as the smoking gun Benghazi email Republicans hoped to find was not hidden among Clinton's double-secret archives.
Schiff claimed that the House Select Committee on Benghazi had known about Clinton's personal email account for some time but had not issued subpoenas because she had voluntarily submitted all requested documents. The Committee did issue a subpoena this week, something Schiff characterized as a response to political pressure after the existence of Clinton's account became public.
"The secretary has called for those records to be made public," Schiff said. "Why isn't [Chair Trey Gowdy] doing that? Why aren't we doing that? The reason is, we've read them. There's nothing in them."
RELATED: Does Clinton Email Report 'Breathe New Life' into Benghazi Investigation?
"If this secretary or anyone else e-mailed a 'stand down' order, as this mythical claim exists out there, there would be several discoveries on the receiving end of that e-mail," Schiff continued. "There would be people at the Pentagon, there would be people in the field who would have to receive that order." (This has been the Clinton team's response, that any relevant email would have been sent to other State Department officials and therefore captured and preserved.)
"That's not what this discovery is about and you know it," interjected Issa, who's never met a subpoena he didn't like.
"She has provided the documents we asked for," Schiff said. "The only reason to give a subpoena for documents you have if you want to politically grandstand or make a political issue." So, he's new here.
Watch the clip below, via CNN:
[Image via screengrab]
——
>> Follow Evan McMurry (@evanmcmurry) on Twitter
Have a tip we should know? tips@mediaite.com