Dem Rep: Trump's Disregard of Intel Findings is 'Extraordinarily Beneficial to Russian Propaganda'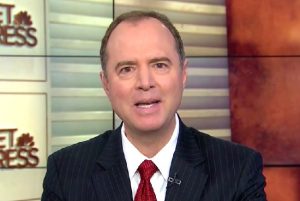 During an appearance on Meet the Press this morning, Rep. Adam Schiff (D-CA) expressed extreme concern over President-elect Donald Trump's dismissal of American intelligence agencies, stating that it plays right into Russian hands.
Following up an extremely contentious interview with Trump Chief of Staff Reince Priebus, host Chuck Todd asked Schiff if he had anything to share that could prove something to Priebus that they are wrong on not accepting the conclusions of the CIA.
"I thought that interview was breathtaking," Schiff commented. "There's no doubt that the Russians hacked our institutions."
The Ranking Member of the House Permanent Select Committee on Intelligence continued, "This was not China, this wasn't a 400 pound guy in New Jersey or anyone else. This was the Russians."
The MTP host then played "devil's advocate" and asked if it was possible that the intelligence community might be involved in confirmation bias when it comes to Russian hacking. Schiff noted the circumstantial evidence surrounding all of this is "so profound" and then hit the Trump team for disregarding "overwhelming evidence."
"I will say one other thing," Schiff explained. "The reason that this Russian campaign has been so successful is that you have the rare specter of a presidential candidate and now president-elect willing to give the Russians cover. This is effective because the Russians can put out on their TV Russia Today and their Sputnik that the president-elect of the United States doesn't believe they were involved. That is so extraordinarily beneficial to Russian propaganda."
Watch the clip above, via NBC News.
[image via screengrab]
–
Follow Justin Baragona on Twitter: @justinbaragona
Have a tip we should know? tips@mediaite.com