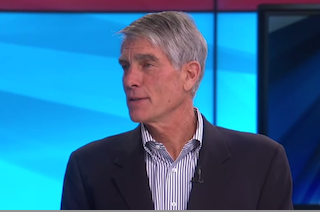 Has Senator Mark Udall (D-CO) given up? Colorado is one of the few states that remains in the toss-up column heading into next month's midterm elections and could play a role in determining which party controls the Senate, but judging by this interview Senator Udall gave to Denver's ABC 7 News over the weekend, he may not have much more fight in him.
Udall answered a series of ten questions, answers to some of which came more easily than others. For instance, when asked whether the Affordable Care Act should be repealed, the senator quickly said "no."
The first clue that something was up came when his response to "Is Common Core good or bad for Colorado students?" was "Yes."
But things really went off the rails when Udall was asked to name the three most influential books he's ever read along with the last song he listened to. He quickly came up with Profiles in Courage
by John F. Kennedy, but then, after a lengthy pause, he appeared to be stumped.
"We can play this over, right, I mean re-tape this?" Udall asked the interviewer, perhaps not realizing that the clip would go out as-is. "I'm brain dead today," he admitted after failing to come up with the last song he listened to.
Realizing his mistake, Udall finally got it together and finished answering the probing questions.
According to various polls, Udall is currently trailing Republican challenger Cory Gardner by anywhere from one to three points. The New York Times' Upshot model gives him just a 32% chance of keeping his seat. All this means Udall is going to have to shake off that "brain dead" feeling over the next two weeks if he wants to stay in the game.
Watch video below, via ABC 7 News:
[Photo via screengrab]
— —
>> Follow Matt Wilstein (@TheMattWilstein) on Twitter
Have a tip we should know? tips@mediaite.com