Dem Senator Challenges Sebelius: 'Why Not Just Shut Down' Obamacare Website and 'Do It Right'?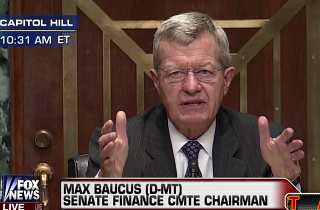 At the beginning of Wednesday morning's Senate Finance Committee hearing on Obamacare, Chairman Max Baucus (D-MT) openly expressed his disappointment with the rollout of the healthcare law thus far and challenged Health & Human Services Sec. Kathleen Sebelius on why they don't just temporarily shut down the Healthcare.gov website in order to finally "get it right."
"Many people think that the site should be shut down until it's totally fixed," Baucus began his questioning. "Why just keep limping along? Why not just shut it down and put it together in the way that it should be put together. Many have pointed out that your one-off fixes tend to have unintended consequences somewhere down the road."
"Every day when there's a story of someone didn't get on, there's a blank page, or a security problem," he continued with a chuckle, "that's a bad media campaign. It's negative, it hurts, it doesn't help you."
He asked: "So why not just have one bad story: Shut it down, fix it, and everything's working? […] Why not just get it done right? […] Why not shut down and do it right?"
Sebelius responded that her team of expert contractors have looked at the system and have performed a "series of diagnostics" and determined that the site is "fixable" and not "fatally flawed," as the media has previously reported.
As for whether it would be helpful to take the website down entirely, Sebelius asserted that "routine patches" are a better method. "It's been advised that you don't gain much from just taking the whole system down for a week, or a couple of weeks," she concluded.
Watch below, via Fox:
— —
>> Follow Andrew Kirell (@AndrewKirell) on Twitter
Have a tip we should know? [email protected]