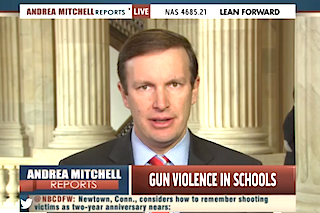 MSNBC's Andrea Mitchell marked the two-year anniversary of the mass shooting at Sandy Hook Elementary School in Newtown, Connecticut Friday afternoon by speaking with Sen. Chris Murphy (D-CT) about the lack of progress in Congress when it comes to getting new gun control legislation passed. Murphy, who has been dedicated to this issue over the last two years, said Congress was "essentially complicit" in the murders that have happened since Newtown for its failure to pass laws restricting access to guns.
Murphy says those on his side of the issue need to "learn from the gun lobby," which managed to defeat legislation last year thanks to years of building up political favor with Congress. "In order to get a bill passed here in Washington, we have got to build a movement across the country" that could take more than a decade to "match the power of the gun lobby."
The senator admitted that with Republicans taking control of the Senate next year, a background checks bill is unlikely, but he did hold out hope for a bill focusing on mental health issues, which appears to have bipartisan agreement.
Noting that there have been 94 school shootings since Newtown, Murphy said we "almost don't even get outraged" about them anymore because they have become to commonplace. "Every day that the Congress does nothing, we are essentially complicit in these murders. We offer a kind of endorsement in our inaction."
One problem any potential legislation could face, besides the right-leaning makeup of the Congress, is public sentiment on the issue. Since the Sandy Hook shooting, Pew Research found that Americans' support for gun rights has actually grown.
According to the new survey, released on Wednesday, "52% say it is more important to protect the right of Americans to own guns, while 46% say it is more important to control gun ownership." That marks a 7 point swing towards the gun rights side since January 2013.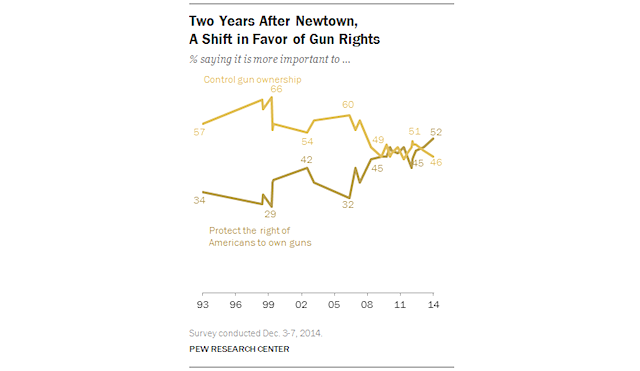 Watch video below, via MSNBC:
[Photo via screengrab]
— —
>> Follow Matt Wilstein (@TheMattWilstein) on Twitter
Have a tip we should know? tips@mediaite.com