Dem. Senator Slams U.S. 'Culture Of Leaks' On 'Classified' Revelation NSA Probing Phone Records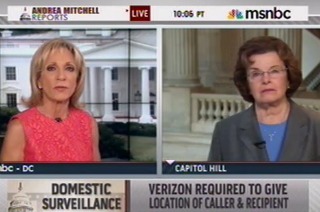 "We have become a culture of leaks now," Sen. Dianne Feinstein (D-CA) declared during an interview with MSNBC's Andrea Mitchell on Thursday. She expressed strong concerns over the fact that the "classified" program relating to the National Security Agency's collection of telephone records was revealed to the press. She added that "there is nothing new" in the routine reauthorization request provided to the press.

Mitchell said that the order to surrender phone records to the NSA is not limited to Verizon and she is "hearing" that other phone companies are also compelled to do the same.
"Let me stop here," Feinstein interrupted. "This is classified. I can neither affirm it or deny it."
Mitchell played a portion of House Speaker John Boehner (R-OH) who criticized the White House for not explaining to the public why the NSA needs to take this step in order to secure the American people.
RELATED: NBC's Pete Williams: 'Highly Likely' Guardian Report On NSA Will 'Trigger A Leak Investigation' From DOJ
Feinstein replied to Boehner that the Intelligence Committee in the Senate has asked members of Congress to review the orders and has debated the reauthorization of this order "more than a dozen times."
"There is nothing new in this program," Feinstein asserted. "The fact of the matter is that this was a routine, three month approval, under seal, that was leaked."
"Should the leak be investigated?" Mitchell asked.
"I think so," Feinstein replied. "I think we have become a culture of leaks now."
Mitchell and Feinstein concluded that the lack of awareness of this program among members of Congress is similar to the lack of interest in reading intelligence assessments relating to weapons of mass destruction in Iraq during the run-up to war in 2002-2003.
Watch the clip below via MSNBC:
> >Follow Noah Rothman (@NoahCRothman) on Twitter
Have a tip we should know? tips@mediaite.com