Dem Senator to CNN: Navy Yard Shooting 'Ought to Be a Call to Action' on Guns and Mental Health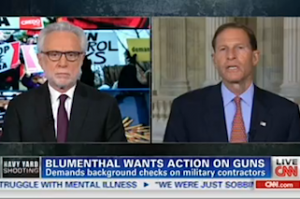 As one of the two senators from Connecticut, Democratic Richard Blumenthal has felt the pain of mass shootings close to home over this past year. During an interview with CNN's Wolf Blitzer Tuesday, Blumenthal said yesterday's mass shooting at the Washington, D.C. Navy Yard should be seen as a "call to action" for Congress to prevent more incidents like this one from happening in the future.
Prompted by Blitzer, who predicted the senator would be "outraged" by yesterday's events, Blumenthal said, "I am outraged," adding that "the mental health aspect of this senseless horrific tragedy ought to be front and center and a basis for action."
The senator went on to explain that there are many facts we still do not know about what caused gunman Aaron Alexis to allegedly shoot and kill 12 people Monday, "but, overriding here, there ought to be a call to action." He then quoted Dr. Janis Orlowski, the D.C. chief medical officer who spoke out against gun violence during a press conference yesterday.
"Dr. Orlowski yesterday, at the MedStar Washington Medical Center I think put it best," Blumenthal said, "'If we don't do something, shame on us.' And I'm hoping that my colleagues will be shaken by how close physically this mass shooting was to them. We had to lock down the senate for a period of a couple of hours. Every one of us ought to feel that our lives are touched by it."
As for the prospects of stricter gun control laws passing in Congress after the Navy Yard shooting, after they failed to pass following the Newtown, Connecticut massacre, Blumenthal was very cautiously optimistic. He proposed that mental health care initiatives should be the "centerpiece" of any new legislation, combined with stricter background checks for gun purchases.
"There are ways to bring together the political consensus that we need," Blumenthal said, "and after all, 90% or more of the American people support these common sense initiatives, many of them gun owners and, in fact, many NRA members themselves. My hope is by the end of the year or certainly by the end of this session, we will have some kind of common sense measure. We came so close."
Watch video below, via CNN:
[photo via screengrab]
Editor's note: This post has been edited since its original posting – Jon Nicosia, Mgr. Editor
— —
>> Follow Matt Wilstein (@TheMattWilstein) on Twitter
Have a tip we should know? tips@mediaite.com