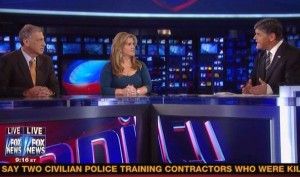 On his show tonight, Sean Hannity took to strongly criticize all those who tried to politicize the shootings last Friday in Aurora, including the misleading tea party connection first reported by ABC's Brian Ross, and noted that this is not the first time the tea party has been blamed for a tragedy. He and a tea party guest on his show got into a heated argument with Hannity's other guest over whether this was a deliberate smear on the tea party or an accident.
RELATED: UPDATE – ABC Corrects Report: ABC News' Brian Ross Links Colorado Shooter To Local Tea Party
Hannity brought up the Fort Hood shooting and how the same people quick to blame the tea party were urging caution and not to jump to conclusions after learning that the Fort Hood shooter yelled "Allahu Akbar." He asked why that double standard exists. Democratic strategist Joe Trippi agreed with Hannity that the ABC report was irresponsible journalism, but argued that the case surrounding the Fort Hood shooting was much more complicated and no one was sure of what happened at first.
Tea party activist Jennifer Stefano said that just like everyone else, tea partiers were most concerned with the victims and their families. She criticized the "left-wing media bias" that demonizes tea partiers as "mass murderers and racist," which she said helps to undermine the movement's legitimate arguments about important economic issues. Hannity agreed with Stefano, saying that "time after time" the media continues to find unfair ways to attack the entire tea party movement.
RELATED: O'Reilly And Bernie Goldberg Tear Into ABC's Brian Ross For Tea Party-Colorado Shooting Report
Trippi argued that what Ross and ABC did was a mistake, and they were not deliberately going out of their way to malign the tea party. He said if they had information in cases like this where someone has liberal connections, it would have been brought up just the same, which Stefano seriously disputed. She said if they saw information that the shooter had Democratic ties, they would have done more research on it.
Hannity suggested that it was part of a long-term smear campaign of the tea party by the mainstream media.
Watch the video below, courtesy of Fox News:
Have a tip we should know? tips@mediaite.com
Josh Feldman - Senior Editor