Dem Strategist To CNN: Conservatives Who Suggest Clinton 'Faked' Concussion 'Are Just Stupid'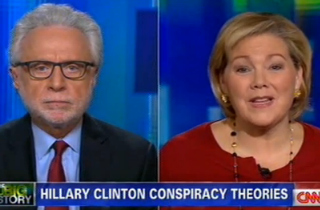 Democratic strategist and friend of the Clinton family Catherine "Kiki" McLean did not mince words last night on CNN's Piers Morgan Tonight, outright labeling the conservative pundits and politicians who were skeptical of Secretary of State Hillary Clinton's concussion to simply be "stupid" people who "need a new hobby."
Fill-in host Wolf Blitzer played off a few soundbites from Rep. Allen West (R-FL), Fox commentator Charles Krauthammer, former U.N. Ambassador John Bolton, and conservative radio host Laura Ingraham all expressing doubts about the secretary's illness, especially given the proximity to her scheduled testimony before Congress over the 9/11 Benghazi attacks.
When Blitzer asked McLean to address the conservative pre-blood clot doubts, she happily obliged:
You know what my really complicated analysis of that is? They are stupid. People who go out and generate rumors and lies are stupid. And they shouldn't be doing so on national television. And they shouldn't be doing so at the real risk of someone else's health. And Hillary Clinton is somebody who recognizes not only the responsibility to the job she has, but her role in public life and that's why they've made sure folks knew what's been going on and for those guys to go out and do that. A former ambassador said that. A member of Congress said that. And a national journalist. That's just stupid, Wolf.
"Anybody who knows Hillary Clinton knows she would much rather have been at the Senate, on the appointed day at the appointed time, answering questions," McLean later added. "And she did take responsibility because she knows what her role is and she knows what she should do and she does it on a daily basis."
The Democratic strategist concluded: "These guys who make a living out of criticizing Hillary Clinton, they need to get a hobby. They show poor judgment. They show lack of proper intellectual curiosity."
Watch below, via CNN:
— —
>> Follow Andrew Kirell (@AndrewKirell) on Twitter
Have a tip we should know? tips@mediaite.com