Dem Strategists Agree With O'Reilly: 'Insane' To Connect Race To Obama's Debate Performance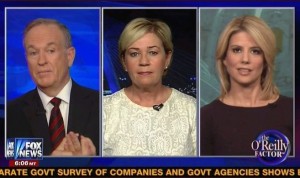 Bill O'Reilly opened his show Friday with by touting new polls showing Mitt Romney catching up to President Obama in polls in crucial swing states like Florida, and said the Democrats' strategy coming out of the debate has been to "call Romney a liar" in order to take the spotlight off of Obama's poor performance. O'Reilly found it hard to believe that the rhetoric will help the president's election chances.
RELATED: Bill O'Reilly: It's 'Astounding' That Obama Didn't Bring Up Romney's '47 Percent' Comment At Debate
He argued that it is "foolish and destructive" for the Obama campaign to attack Romney over lying when the president has also been guilty of making "false and misleading statements."
O'Reilly then brought up what he thought was one of the most ridiculous takes on Obama's debate performance, from MSNBC contributor Michael Eric Dyson, whom O'Reilly referred to as a "race hustler." Dyson argued that Obama could not afford to be seen as an "angry black man" stereotype. O'Reilly said that Dyson cannot "analyze anything… without injecting race."
O'Reilly then brought in Democratic strategists Mary Anne Marsh and Kirsten Powers to react to the Democratic machine working overtime to attack Romney. Powers was surprised to find herself in agreement with Romney, saying that the campaign should not be outright calling the other candidate a liar. O'Reilly compared the Democrats to sore losers calling Romney names, like children.
O'Reilly asked Marsh and Powers about Dyson's "kooky fringe" idea that race had to do with how Obama did during the debate. Marsh agreed that Obama should have been more aggressive, but when O'Reilly pushed her to answer the race issue, she agreed with him that Dyson's take was not true. Powers said it was "insane."
Watch the video below, courtesy of Fox News:
—–
Follow Josh Feldman on Twitter: @feldmaniac
Have a tip we should know? [email protected]
Josh Feldman - Senior Editor