Democratic Pollster To Megyn Kelly: Media Guilty Of 'Corruption Of The First Order' For Protecting Obama
Dem Pollster : Media Guilty Of 'Corruption Of The 1st Order' For Protecting Obama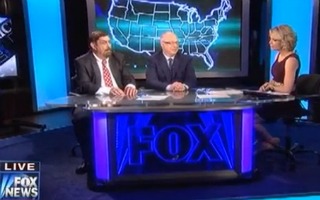 Former Democratic pollster Patrick Caddell appeared on Fox News Channel with Megyn Kelly on Monday to elaborate on a talk he gave recently in which he claimed that the media has today become "the enemy of the American people." Caddell called the media's deliberate downplaying of certain stories that could damage Barack Obama's electoral prospects as "corruption of the first order."

"We're entering territory we have never entered before," said Caddell. "We've never had a situation where the press has purposefully decided to pick up a narrative rom the White House to not tell people things that happened in order to support their overwhelming candidate for president, Barack Obama."
"This isn't about partisanship, this is about danger," said Caddell. He equated the media to "Pravda," a newspaper which was owned and operated by the state in the Soviet Union. Caddell went on to say that the problem of bias should be obvious citing how the story of the Libya attacks and subsequent mishandling of the response by the administration was not covered widely.
Megyn Kelly asked Caddell's college, former Democratic pollster Doug Schoen, if the change of media bias was valid anymore given the proliferation of alternative sources of information. "Pat is right," said Schoen. "There is a narrative that is being used to drive this campaign in a way that is effectively complicit with the Obama campaign."
Caddell accused National Security Advisor Thomas Donnellan of orchestrating a media narrative around the Libya attacks – that they were caused by an offensive YouTube video online and that Mitt Romney's response to the attacks was both premature and unseemly.
"He and David Plouffe sat there and said, 'we have to protect he narrative we have,'" said Caddell.
Caddell slammed the Obama campaign for allowing the president to campaign in Las Vegas the day of the attacks in North Africa. Caddell said that his former boss, President Jimmy Carter, refused to make similar campaign appearances amid national security threats during the 1980 election. "Why isn't the press saying anything," asked Caddell.
Kelly asked Schoen if the media has crossed over into protecting the president rather than objectively reporting on the administration. Schoen said that, in combination with the stories about polls projecting Democratic turnout at 2008 levels, "the mainstream media appears to be facilitating a narrative" advanced the political operation in the White House.
Watch the clip below via Fox News Channel:
> >Follow Noah Rothman (@Noah_C_Rothman) on Twitter
Have a tip we should know? tips@mediaite.com