Democratic Columnist: 'Abhorrent' That Democratic Party Is 'Intolerant For Anyone Who Disagrees With It'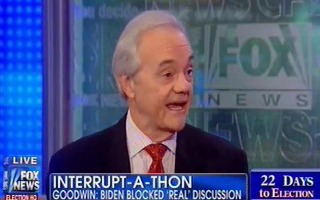 New York Post columnist Michael Goodwin joined Fox & Friends host Gretchen Carlson on Monday to discuss his latest column in which he laments how the Democratic party has become "intolerant" of opposing views. Goodwin said that President Barack Obama's administration's response to criticism about the handling of the Libya attack and Vice President Joe Biden's behavior during his debate against GOP vice presidential nominee Paul Ryan are reflective of a modern Democratic party that does not abide dissent.

Goodwin slammed the Obama administration's handling of the Libya scandal, saying that their reaction has been to attempt to "silence the critics."
"The administration takes no responsibility and, at the same time, they're accusing the Republicans of politicizing it – going after the media groups that talk about it – and it's all about avoiding any responsibility, any accountability, and anyone who criticizes the president now is demonized immediately," said Goodwin.
Goodwin said that this behavior has become indicative of the modern Democratic party. "I just find it abhorrent the way this party now is intolerant for anybody who disagrees with it," Goodwin continued.
"The way Joe Biden treated Paul Ryan – the lack of manners, the sense that 'I'm going to shut you down from even talking because I don't like what you say' – this has now become the modern Democratic party," Goodwin added. "As a Democrat myself, I think this is just terrible."
Watch the clip below via Fox News Channel:
> >Follow Noah Rothman (@Noah_C_Rothman) on Twitter
Have a tip we should know? tips@mediaite.com