Democratic Congressman Agrees With Bashir That GOP Rep. Steve King Is An 'Ignorant Racist'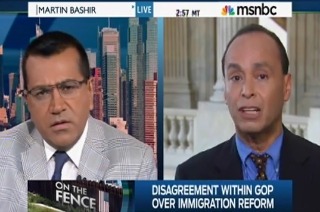 On Wednesday, MSNBC's Martin Bashir interviewed Rep. Luis Gutiérrez (D-IL) about ongoing immigration reform efforts in Congress and an offensive statement made by Rep. Steve King (R-IA). This week, King said that as many illegal immigrants are drug smugglers as there are honest working men and women. Asked by Bashir if he believed his colleague was an "ignorant racist," Gutiérrez said that King's statements were consistent with that assessment.

On Tuesday, King told Newsmax TV that there is a misconception about illegal immigrants that they are all honest and hardworking.
"For everyone who's a valedictorian, there's another 100 out there that–they weigh 130 pounds and they've got calves the size of cantaloupes because they're hauling 75 pounds of marijuana across the desert," King told Newsmax. "Those people would be legalized with the same act."
RELATED: Rep. Steve King: Immigrants Mostly 'Evil' Marijuana-Smugglers With 'Calves the Size of Cantaloupes'
"Do these idiotic, reprehensible comments detract from the progressing that House Republicans may have been making on immigration?" Bashir asked.
Gutiérrez replied that he did not think that it would, considering how many Republicans he is working with in Congress to craft immigration reform legislation. "I think Steve King is clearly an outlier in the Republican Party and some of us are doing the hard work ignoring the ignorant racist comments that he makes," Gutiérrez said.
"And do you believe that Mr. King is an ignorant racist?" Bashir pressed.
"I can't think of any other words that truly describe the very despicable words that he said," Gutiérrez replied, calling King "desperate" to derail immigration reform. "They're both ignorant and racist statements."
Watch the clip below via MSNBC:
> >Follow Noah Rothman (@NoahCRothman) on Twitter
Have a tip we should know? tips@mediaite.com