Democratic Congressman: Unemployed Not Voting 'For The Party Who Wants To Cut Their Benefits'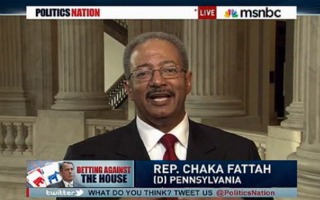 Appearing on MSNBC's Politics Nation with Al Sharpton on Tuesday, Rep. Chaka Fattah (D-PA) told the host that he believed President Obama would be reelected and that the nation's numerous unemployed are "not going to be voting for the party who wants to cut their benefits, cut access to food stamps, cut job training."

RELATED: NY Times Buries The Lede: Anderson Cooper's Ratings Surge At 8PM
Sharpton began the segment by highlighting the cuts to entitlement programs proposed in Rep. Paul Ryan's (R-WI) most recent budget and asked Fattah why the Republican party wonders "why they've got a bad image?"
Fattah praised the conservative spirit in Britain where a Tory Prime Minister, David Cameron, wants to "invest in a smart grid," as well as in high-speed and light rail to create jobs. "They tried cutting and their economy went in a hole," said Fattah.
Fattah praised President Obama and said the record shows the economy is recovering under his watch.
"We're headed in the right direction. Unemployment continues to drop and those people who are unemployed, they're not going to be voting for the party who wants to cut their benefits, cut access to food stamps, cut job training," Fattah said.
"The idea that Republicans are trying to help those who are unemployed is nonsense and I think that on this election day, those who have a job can credit the administration for stabilizing our economy and those who don't know that this administration is trying to put them to work," he concluded.
Watch the segment below via MSNBC:
Have a tip we should know? tips@mediaite.com