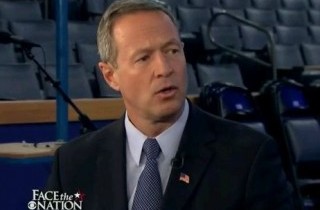 Appearing on CBS' Face the Nation Sunday morning, Maryland's Democratic Gov. Martin O'Malley said that the country is not better off than four years ago. On every other morning show, Democratic representatives were posed a similar question — O'Malley was the only one to concede that he believes Americans are not better off.
"Can you honestly say that people are better off today than they were four years ago?" host Bob Schieffer asked the governor.
"No, but that's not the question of this election," O'Malley replied. "The question, without a doubt, we are not as well off as we were before George Bush brought us the Bush job losses, the Bush recession, the Bush deficits, the series of desert wars — charged for the first time to credit cards, the national credit cards."
O'Malley was joined by Obama's deputy campaign manager Stephanie Cutter, who stepped in to tell Schieffer that she does believe America is better off today than when the president took office.
"I just want to remind you what was happening four years ago at this time," she said. "In the quarter before the president took office, we lost three million jobs. Our country was bleeding. Our financial system was on the verge of collapse. We were passing bank bailouts to ensure that our system could stay afloat. That's what was happening before the president took office."
Nevertheless, Republicans seized on O'Malley's remarks by sending out a campaign email:
This president can ask us to be patient. This president can tell us it was someone else's fault. This president can tell us that the next four years he'll get it right. But this president cannot tell us that YOU are better off today than when he took office. America has been patient. Americans have supported this president in good faith. But today, the time has come to turn the page.
Watch the clip below, via CBS:
[h/t TalkingPointsMemo]
— —
>> Follow Andrew Kirell (@AndrewKirell) on Twitter
Have a tip we should know? [email protected]