Democratic Guest To Hannity: Solution To Rape Is Not Arming Women, But 'Training Men To Not Rape'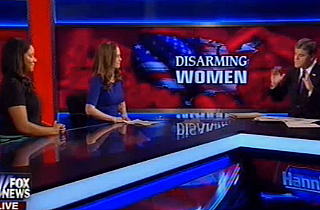 During a heated debate on Hannity last night on Fox, Democratic strategist Zerlina Maxwell asserted that the best method for preventing rape is not to allow women to arm themselves but to teach young men not to rape.
Maxwell was battling with Hannity and female gun advocate Gayle Trotter over a Colorado legislator's recent comments to a rape victim. "Statistics are not on your side even if you had had a gun," State Sen. Evie Hudak (D) told a young woman who testified that women should be allowed to carry weapons on campus as a means to preventing attacks.
After the Fox host mocked Colorado legislators for suggesting that fake fainting, urination, vomiting, and whistles are better alternatives than allowing armed female students, Maxwell, who was a victim of rape herself, responded:
I think that the entire conversation is wrong. I don't want anybody to be telling women anything. I don't want men to be telling me what to wear and how to act, not to drink. And I don't, honestly, want you to tell me that I needed a gun in order to prevent my rape. In my case, don't tell me if I'd only had a gun, I wouldn't have been raped. Don't put it on me to prevent the rape.
Hannity pushed back that he isn't "requiring" any female to carry a gun, but that he believes the law ought to allow women the choice to defend themselves with a weapon.
Maxwell then offered up her alternative solution: "We should be telling men not to rape women."
"Criminals are not going to listen to that," Hannity replied, though he agreed with her sentiment.
But Maxwell insisted: "We can prevent rape by telling men not to commit it."
"You think you can tell a rapist to stop doing what he's doing? And he's going to listen to an ad campaign?" Hannity challenged.
Maxwell answered in the affirmative and then noted the various advocacy groups that seek to promote awareness among men for preventing rape. "Men can stop rape and men can stop violence," she said, "they train young men to not rape."
Watch the debate below, via Fox:
Have a tip we should know? tips@mediaite.com