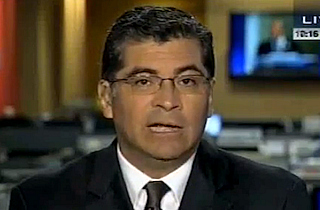 On C-SPAN's Newsmakers Sunday morning, California Congressman Xavier Becerra commended President Barack Obama for seeking approval from Congress for a strike on Syria, but cautioned him against doing so if he does obtain congressional authorization.
"Having come to Congress, the president did something I applaud him for," said Bacerra, who chairs the House Democratic Caucus. "He did something too many presidents have not done, and that is seek the support in the House of Representatives and the Senate. I applaud him for that, because this is the risk: you're now talking about the dangers of the president not getting the support for the authorization. My sense is that working hard, the president will get the votes."
If the resolution failed, however, Bacerra cautioned Obama against moving forward.
"Constitutionally, the president has the ability and the authority to act militarily if it's not a war, and I don't think he's requesting authorization to commit us to war," Bacerra said. "While he has the constitutional authority, morally I think he would have lost the authority to move forward…That's why I hope my colleagues are up to the task of voting properly, appropriately, justly, morally, so we can decide what to do given that the president has asked us to join him, unlike other presidents who have never asked us to participate in this very difficult decision."
Watch the full clip below, via C-SPAN:
[h/t Politico]
[Image via screengrab]
——
>> Follow Evan McMurry (@evanmcmurry) on Twitter
Have a tip we should know? tips@mediaite.com