Democratic Rep: Some Southern States 'Have Cultures That We Have To Overcome' To Enact New Gun Laws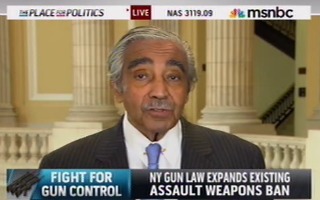 Rep. Charlie Rangel (D-NY) joined MSNBC anchor Thomas Roberts on Wednesday to applaud strict new gun laws passed by the New York State legislature and signed by Gov. Andrew Cuomo this week. He said that he was glad that the legislature, and the federal government, were doing something in the wake of the murder of children and teachers in Newtown, Connecticut. He noted, however, that New York is more progressive than some places and some regions, particularly the American South, have "cultures that we have to overcome" in order to enact stricter national gun laws.

RELATED: Oregon Sheriff Vows He Will Not Enforce 'Unconstitutional' New Gun Control Legislation
"This is not Constitutional rights, this is common sense," Rangel said referring to new gun laws in New York state. "We know that those people that incorporated the right to bear arms was not talking about the slaughter of children that's happened in Newtown, Connecticut.
"Do you think that New York and what has been done in this state could be used as a role model for other states that would like to enact something of New York's model?" Roberts asked.
"I hope so," Rangel replied. "New York is different and more progressive than a lot of areas in other states, and some of the Southern areas have cultures that we have to overcome."
He concluded that he was glad that Republicans and Democrats can come together, knowing that they "have to do something."
Watch the clip below via MSNBC:
> >Follow Noah Rothman (@Noah_C_Rothman) on Twitter
Have a tip we should know? tips@mediaite.com