Democratic Sen. Ron Wyden Joins Rand Paul For Historic Bipartisan Filibuster Over Drone Strikes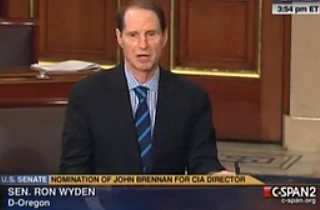 Sen. Rand Paul's (R-KY) filibuster of John Brennan's CIA nomination just became a bipartisan affair: Sen. Ron Wyden (D-OR) announced he will join the effort to protest the Obama pick's appointment by railing against executive overreach on targeted killings.
Several hours into his filibuster effort, Paul's Republican colleagues in Sen. Ted Cruz (R-TX) and Sen. Mike Lee (R-UT) joined him on the Senate floor. But it took nearly four hours for a Democrat to surprise everyone and make the filibuster a bipartisan one.
Shortly before 4:00 p.m. ET, Sen. Wyden announced, via Twitter, that he was heading to the floor to speak out against the president's executive overreach on targeted killings and the lack of congressional oversight thereof: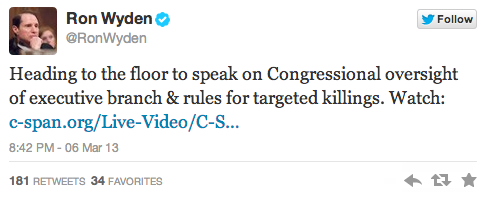 Several minutes later, Wyden appeared on the floor and Paul handed off the mic to the liberal Oregon senator.
"The issue of American security and American freedom really doesn't get enough discussion here in the United States Senate and it's my view that the senator from Kentucky has made a number of important points this day," he began.
"I intend to vote for Mr. Brennan on the floor," he admitted, but then made clear that "the executive branch should not be allowed to conduct such a serious and far-reaching program by themselves without any scrutiny, because that's not how American democracy works. That's not what our system is about."
Throughout his speech, Wyden expressed great respect for his Kentucky colleague Paul while politely criticizing the Obama administration's policies on civil liberties. The two thanked each other for talking about the "principles," making clear that this was not anti-Brennan protest so much as an attempt to bring attention to the administration's overreach.
Wyden has a history of bucking the Democratic Party establishment to work with Republicans on a variety of issues. In 2011, he co-authored with Rep. Paul Ryan (R-WI) a "bi-partisan plan" for Medicare reform.
His consistently liberal views on issues of civil liberties makes him a natural ally for Sen. Paul in the fight for congressional oversight in the executive branch's targeted killings.
Watch the hand-off and a portion of Wyden's remarks below, via C-SPAN2:
— —
>> Follow Andrew Kirell (@AndrewKirell) on Twitter
Have a tip we should know? tips@mediaite.com