Democratic Senator To MSNBC: We Need Immigration Reform To Prevent Future Boston Marathon Bombings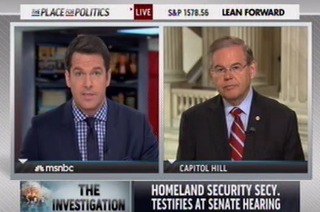 Sen. Bob Menendez (D-NJ) told MSNBC anchor Thomas Roberts on Tuesday that a comprehensive reform of the nation's immigration system is as much a domestic reform as it is an augmentation of the nation's counterterrorism preparedness. He said that information about the Tsarnaev brothers, accused of orchestrating the terror attack on the Boston Marathon last week, were quickly identified by authorities because they were in the nation's immigration system. Menendez added that registering and checking the backgrounds of illegal immigrants will help prevent future attacks like the one that occurred in Boston.

Roberts noted that Rep. Paul Ryan (R-WI) made the point that immigration reform is also a measure to enhance America's security, while adding that Sen. Rand Paul (R-KY) said that the fact that the alleged Boston bombers immigrated to the United States legally raises concerns about making it easier for immigrants to become legal residents.
"I just simply believe, if anything, I'd rather know, among the 11 million or so that are undocumented in this country, who is here to pursue the American dream and who would do it harm," Menendez said. "And the only way I'll do that is to make them come forward, register with the government, and go through a criminal background check."
RELATED: John McCain Blasts GOP Senators Citing Bombing To Delay Immigration Reform: 'That's Ludicrous'
Menendez said that many aspects of immigration reform, both domestically and abroad, would augment American security. He cited security advocates like Sen. John McCain (R-AZ) who also support his position.
Watch the clip below via MSNBC:
> >Follow Noah Rothman (@NoahCRothman) on Twitter
Have a tip we should know? tips@mediaite.com