Democratic Senators Push For Filibuster Reform– While They Only Need Simple Majority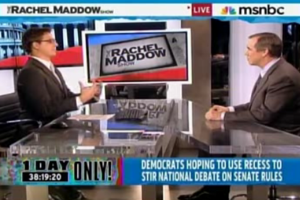 After a tumultuous lame duck session, Congress is getting ready to get back in gear, and the Senate in particular appears ready to tackle some practical business: the use of the filibuster, which Democrats appear poised to reform. Given that, for one day, a simple majority at the beginning of a session may change floor rules, the death of the filibuster appears, if not imminent, at least possible.
Chris Hayes, filling in for Rachel Maddow, took on the subject on The Rachel Maddow Show with one of the senators leading the charge: Jeff Merkley of Oregon. Hayes did little to hide his excitement at the death of the filibuster, though feared his "hopes dashed" by the limited time frame. Sen. Merkley assured him that, while it is customary (and logical) to change rules on the first day, it was "precedent," but the Constitution did not limit reforms to that day.
Hayes was also concerned about the momentum for change in the Senate, another issue on which Sen. Merkley reassured him. While Republicans appeared to resist the change, and it's "very hard to get people to pay attention to something as important as this," the pressure has been mounting on the Senate to reform the filibuster as its use becomes more frequent, causing, he concluded, "hundreds of House bills never taken up because there will never be time."
While the media will have to wait a few days to see whether congressional inertia will be overcome on this issue, at least, it appears, the senator left Hayes' optimism intact.
The discussion via MSNBC below:

Have a tip we should know? tips@mediaite.com