Democrat's Disingenuous Reaction To Romney's Immigration Speech Reinforces How Effective It Was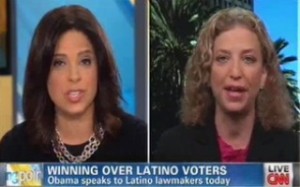 Republican presidential candidate Mitt Romney's speech on Thursday to an audience at the National Association of Latino Elected and Appointed Officials (NALEO) conference in Orlando has prompted a series of curious and contradictory responses from Democrats and liberal critics of the former Massachusetts governor. But their reaction betrays the seriousness of Romney's speech and the impact it could have on the presidential race if the proposals he advanced on Thursday are sustained and repeated throughout the campaign. Romney's NALEO speech recaptured the initiative President Barack Obama seized in announcing his immigration directive last Friday. After just one week, Democrats are back on the defensive.

RELATED: Romney Gets Specific On Immigration Reform At Hispanic Leadership Conference
The liberal reaction to Romney's speech was typified by Democratic National Committee Chairwoman Rep. Debbie Wasserman Schultz on CNN's Starting Point on Friday.
"What did you make of his comments," CNN anchor Soledad O'Brien asked the DNC chairwoman about Romney's NALEO speech.
"Well, not very much," Wasserman Schultz responded. "Mitt Romney was about as vague as he could be."
"There was no specific proposal," she continued. "No clear path so that the 12 million undocumented immigrants would know, under a Romney presidency, what their future would hold. The only thing he has done is tell them that he keeps his promises."
Wasserman Schultz proceeded to rehash the hard line stances that Romney struck for himself during the Republican primaries regarding illegal immigration – including his pledge to veto the DREAM Act. She then offered praise for President Obama's White House directive to halt the deportation of the some 800,000 children of illegal immigrants.
I watched Romney's address to NALEO live. Immediately afterword, I noted how it was a substantive speech with a number of proposals he had not previously advanced regarding the rewarding of legal immigration as well as those second generation illegal immigrants that either earn an advanced degree or serve in the armed forces. It was all news to me.
But I was then immediately confronted by the mirror image of my impressions as I watched MSNBC's instant reaction panel. The speech they saw was void of specifics. They felt Romney was simultaneously pandering and disingenuous. His speech was not only thin proposals with no concrete plan as to how to enact them. What's more, he was "trying too hard" to ingratiate himself to members of the Latino community, as one liberal commentator said.
You can't win for losing, I suppose.
That reaction has been echoed across the spectrum of liberal political commentary. To them, what was not completely old news in Romney's speech was mere pap. Now, the DNC chairwoman doubles down on the progressive commentariat: 'Nothing to see here.' 'Move along.' 'Pay no attention to that man behind the curtain.' 'Oh, and also, remember that Mitt Romney and the Republicans are extreme?'
Wasserman Schultz's flailing response to O'Brien's question tells me at least one thing – my reaction was correct. There was a whole lot of substance in Romney's speech.
The former Bay State governor began by rehashing familiar economic themes – the singular concern on the minds of all voters, regardless of ethnic or cultural background. He vowed to overhaul the system that grants green cards on a first-come, first-serve basis. He promised to end caps on spouses and children of permanent residents.
Romney praised portions of Obama's executive order that allow children of illegal immigrants who serve in the military a path to citizenship – but he condemned the extra-legal way in which that provision was implemented. Indeed, the move itself is a Constitutional affront that the President expressly said was outside the bounds of executive power just last year. Such contradictions are the stuff of hard-hitting attack ads.
What's more, Romney made a compelling case against Obama from a Hispanic perspective – he noted that President Obama abandoned his pledge to get a Democratic-led immigration reform package through Congress when he had large and compliant majorities and a massive electoral mandate under his belt. Romney also reminded the audience that Hispanic unemployment remains persistently above the national average.
What's more, Romney spoke to them in conciliatory way. He praised the promise that Obama represented in 2008 and telling them that it was not their judgment that failed them in the voting booths four years ago; it was Obama who failed in his charge. It was a pitch-perfect tone. It was the way that one should address a skeptical and betrayed group; with sincerity, genuine concern and compassion.
That speech was a good one. It was a powerful one. And it scared Democrats. If Romney's speech was without substance – Democrats would attack those proposals. That they have not speaks to their power.
Watch Rep. Wasserman Schultz spin below via CNN:
> >Follow Noah Rothman (@Noah_C_Rothman) on Twitter
Have a tip we should know? tips@mediaite.com