Democrats Score Quiet Political Victory With Manhattan-Based Arraignment Of Osama Bin Laden's Son-In-Law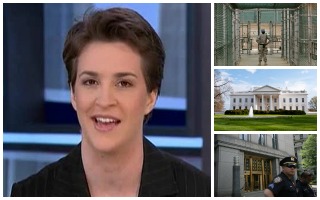 Following the announcement that a key Al Qaeda figure will face trial in lower Manhattan, the spontaneous uproar has been deafening . Attorney General Eric Holder faced a withering interrogation from Republicans on the Hill. New York City Mayor Mike Bloomberg voiced his stern objections to the plan, and suggested that a Manhattan-based trial could again make NYC Al Qaeda's number one target for terrorist operations. The family members of those who lost their lives in the 9/11 attacks are regularly quoted in the media offering scathing admonishments of the Obama administration. Oh, wait… Nope, that was 2009-2010, when an effort to try Al Qaeda mastermind Khalid Sheikh Mohammed, among others, in lower Manhattan sparked a row that forced the White House to abandon the plan entirely. Compared to 2009-2010, the reaction to Friday's arraignment of a high-ranking Al Qaeda official in New York City has been surprisingly muted.

RELATED: Maddow Blasts Republican Opposition To Trying Terrorism Suspects In Federal Court
"Everybody freak out! Double Guantanamo!" declared MSNBC's Rachel Maddow on Friday. Maddow scolded a handful of Senate Republicans who offered a perfunctory level of dissatisfaction with the administration's decision to go ahead with a Manhattan-based trial for Osama bin Laden's son-in-law, Sulaiman Abu Ghaith. "Maybe that'll help you get re-elected if you ever have to get into a time machine and go back and get elected in 2004," she observed.
Visit NBCNews.com for breaking news, world news, and news about the economy
But for all the Sturm und Drang exhibited by Maddow in the above segment, the political tempest unleashed by the Obama administration's decision to try terror suspects in New York in 2013 is minor squall compared to hurricane of disapproval that erupted in 2009.
When the Department of Justice announced their intention to adjudicate terror cases in civilian courts in late 2009, it sparked a smoldering outrage that grew in scope as the issue was publicly debated. Mayor Bloomberg, initially sympathetic to the plan to prosecute terror suspects in courts, was forced to recant his support for the tactic. He cited excessive security costs and residents' concerns about a possible retaliatory strike by Al Qaeda operatives in his opposition to the DoJ's plan for Mohammed's trial.
Today, however, Bloomberg is less politically cautious in his embrace of civilian trials for terror suspects in Manhattan. "No street is going to be closed because of this," he said in a radio interview last week. "Would I prefer to have it elsewhere? I'm not going to get involved in that because I don't want to make the president's job any more difficult." The mayor had few qualms about making the president or his administration members' lives "more difficult" in 2010.
"Unless the NYPD tells us the city we can't handle it, bring Abu Ghaith to trial in New York," declared Manhattan borough presidential candidate Julie Menin. Menin is the former chairwoman of Community Board 1. In 2009, Community Board 1's Assistant Secretary, Mark Ameruso, was one of the most vocal opponents of the plan. "Nearly everybody in that room is going to be a Democrat…many of them are liberal Democrats. We all are Democrats here in Lower Manhattan and we are saying, 'Please, Mr. President, reconsider this for the safety and quality of life of Lower Manhattan," Ameruso said at the time.
In late 2009, public opinion on the matter of civilian trails for terror suspects showed clear majorities did not favor the Democratic position on the issue:
Public polls confirm that Americans largely oppose Democrats on the issue. A Bloomberg poll in early December found that 21% favored trying Gitmo prisoners in criminal court, while 57% wanted them tried in military tribunals. In a late-November USA Today/Gallup poll, 42% favored holding the KSM trial in New York City, while 51% wanted it held elsewhere.
The chances are that public opinion is unlikely to be as clear cut on that issue today as it was nearly four years ago. After dozens of terror suspects have been tried and convicted in civilian courts, public opinion is likely more receptive to the notion of prosecuting terror suspects in civilian courts.
Maddow's reporting on this matter, going through the motions with a predictable admonishment of Republicans, ignores that significant shift in public opinion. In 2009 – 2010, the public outcry against prosecuting terror suspects in civilian court was genuine, sober, and ruthlessly ridiculed on the left. They called it reactionary, but the truth was that there was simply a dearth of evidence to persuade the public that civilian trials for terror suspects were a feasible option.
The Democratic Party and the Obama White House's political victory on this issue is fairly obvious. Magnanimity rather than mockery would go a long way towards winning those last Republican holdouts over to Maddow's side of the argument.
> >Follow Noah Rothman (@NoahCRothman) on Twitter
Have a tip we should know? tips@mediaite.com