Dems And GOP Reps Battle In Benghazi Hearing Over Whether Dems Were Blocked From Witnesses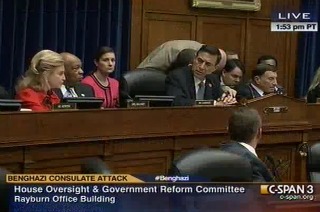 During an Oversight Committee hearing Wednesday into the attack on an American consulate in Benghazi, Democratic and Republican House members battled over whether the minority party was blocked from accessing the witnesses.
"I agree with Mr. [Jason] Chaffetz complete that there should be equal exchange of information – that we should have access to all information – but the Democratic minority was denied access to a witness," asserted Rep. Carolyn Maloney (D-NY). "The only way we knew anything about what Mr. [Mark I.] Thompson was going to say was what we read in the press."
Rep. Darrell Issa (R-CA) objected to Maloney's statement.
"We forwarded them to the minority as we got them. Period." Issa said of the Benghazi whistleblowers' testimony. "There's nothing fair about partisan politics, but I believe we fully complied deliberately with the spirit of the rules all along. So, I would hope the gentle lady, when better informed, would appreciate that – that we tried to be very forthcoming."
Maloney countered that her staff was not allowed to meet with Thompson while Issa's was. "That's just not true," Issa replied.
"You didn't meet with him?" asked Rep. Elijah Cummings (D-MD)
"No, it's true that we've had some meetings with him, but we haven't prohibited or any way – he's not our witness," Issa said.
"We need to clear this up," Cummings asserted. "We've never had a conversation with Mr. Thompson."
Issa asked Thompson directly if he or his staff asked him to not speak with the Democratic minority in Congress. "No" Thompson replied. The other whistleblowers also said that they had not been prohibited by a Republican representative's staff from speaking with Democratic members or their staffs.
"Thank you," Issa said. "That's resolved."
Watch the exchange below via C-SPAN 3:
> >Follow Noah Rothman (@NoahCRothman) on Twitter
Have a tip we should know? tips@mediaite.com