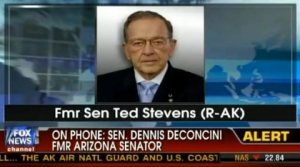 It has been confirmed that former Sen. Ted Stevens did not survive the tragic plane crash in Alaska last night. During today's broadcast, Megyn Kelly interviewed former Arizona Sen. Dennis DeConcini about Stevens who was his friend in and outside of Washington. It was a touching segment filled with a bunch of interesting stories about the late senator.
One thing that a clearly grieving DeConcini stressed was just how much of a nonpartisan Stevens was and how much he helped DeConcini and Arizona (as well as Alaska, of course):
"Ted Stevens was truly somebody who reached across the aisle. The thing was, when I came to the Senate, the Democrats had a big majority but Ted was very affective. When the Republicans took over under Ronald Reagan, he still reached across the aisle. He just wasn't a partisan guy. Now he had issues that he didn't agree with the Democrats. He'd vote against them and speak against them on the floor. But there was never any hostility or any vigor or, you know, left any feelings and taste in people's mind, but there was never any meanness from Ted. He could be tough as nails and when he believed in something, that is what he stood for and fought for. But when it was all over, you know, you could go have a beer with him."
While the next few days will be spent discussing and analyzing the contributions of the longest-serving Republican senator in history, this conversation marked a personal and informative start to the conversation. Watch below.
Have a tip we should know? tips@mediaite.com