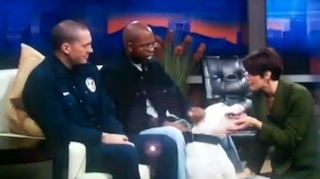 A heroic story took a dark turn this week in Colorado. Yesterday, on Denver's KUSA, anchorwoman Kyle Dyer did a segment on Max, a large Argentine Mastiff, his owner, and the fireman who save his life. However, right at the end of the interview, something went wrong and Max bit Dyer right on the face, requiring her to be sent to the hospital and receive surgery.
On Tuesday, Max and his owner were walking along the Smith Reservoir in Lakewood, Colorado. The dog chased after a coyote and slipped on some ice, falling into the freezing water. He could have died were it not for the actions of fireman Tyler Sugaski who put on a wetsuit and swam out to save him. The entire incident was caught on tape and quickly went viral, leading to the interview on KUSA. Everything was going well until the end when Dyer leaned in to give the dog a kiss. Something spooked him and, in an instant, he whirled up and bit her on the face. The show quickly cut away but, according to updates on the network's Facebook page, Dyer was taken to the hospital and Max was put into quarantine with animal control
Dyer's fellow anchor Gary Shapiro wrote this note a few hours later:
"I wanted to update everyone on Kyle's condition and relate some of my feelings about what happened this morning. I just spent some time with her, and she is doing incredibly well all things considered. Kyle had reconstructive surgery on her lip, after she was bit by the dog this morning on the air. Her recovery is going to take a while, but it is now underway. She wanted me to thank everyone w…ho has called, sent e-mails, posted comments and sent well-wishes and prayers her way. Kyle is going to be OK, although she will be off the air for a while.

This morning we were doing a human interest segment, as we often do on the morning show. Tuesday, a firefighter risked his life to save a dog named Max who wondered out on an ice covered lake and fell in. We wanted to do an interview with the firefighter, who many consider a hero. Max and his owner were here too. Kyle was glad she got assigned to it, because she loves animals. Max and his owner spent about 45 minutes in the newsroom before they went on the air, and many members of the staff greeted them and petted Max. He seemed perfectly normal. During the interview Kyle petted him, and talked to the two guest. At the very end of the segment, Max snapped at Kyle for whatever reason and got some of her lip. The firefighter immediately started caring for Kyle in the newsroom and to us became a hero for the second time. She was taken by ambulance to Denver Health Medical Center a short time later to be treated. "
Today, Fox News did an update on the story and revealed that Max should be released back to his owner within the next two weeks.
You can watch both the original incident (WARNING: It is startling) and the Fox News update below:
Have a tip we should know? tips@mediaite.com