Deputy Sec of State Can't Answer When Asked What Obama Admin's Plan For Syria Is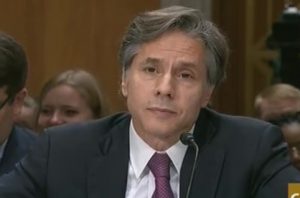 When asked about a vague plan for Syria often cited by administration officials, Deputy Secretary of State Anthony Blinken was unable to tell the Senate Foreign Relations Committee Thursday what was even in the plan.
Tenneessee Republican Senator Bob Corker was quizzing Blinken on "Plan B," a backup plan frequently cited by administration officials in case negotiations over Syria went south. "I'd like to understand what Plan B is, the mysterious Plan B that's been referred to since February. The mysterious Plan B that was supposed to be leverage to get Russia to quit killing innocent people. to get Assad to quit killing innocent people. Just explain to us the elements of Plan B," he asked.
"Plan B is the consequence of the failure, as a result of Russia's actions, of Plan A," Blinken said. "What is likely to happen now if the agreement cannot be followed through on and Russia reneges totally on its commitments…."
"Which it has," Corker interjected.
"It appears to have done," Blinken softened. "This is going to be bad for everyone, but it's going to be bad first and foremost…"
"I want to hear about Plan B," Corker cut in. "I understand all the context here."
But Blinken's answer again avoided addressing the question. "I think, sir, this is important because Russia has a profound incentive in trying to make this work… If this now gets to the point where the civil war actually accelerates, all of the outside patrons will throw in more and more weaponry against Russia, Russia will be left propping up Assad in an ever smaller piece of Syria…"
"I understand all that," Corker interrupted again. "What is Plan B? Give me the elements of Plan B."
Blinken finally seemed to indicate that the administration was still formulating its plan. "As I indicated, the president has asked all of the agencies to put forward options, some familiar, some new, that we are very actively reviewing. When we are able to work through these in the days can ahead, we'll have an opportunity to come back and talk about them in detail…"
"Okay, so let me just say what we already know," Corker said. "There is no Plan B."
Watch above, via CSPAN.
[Image via screengrab]
—
>>Follow Alex Griswold (@HashtagGriswold) on Twitter
Have a tip we should know? tips@mediaite.com