Dershowitz Angrily Denies Sexual Assault Claim: 'I Don't Even Know Who She Is'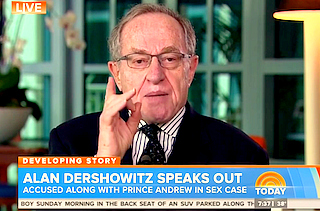 Defense attorney Alan Dershowitz took to the Today show Monday to morning to angrily deny a sexual assault charge from an unidentified woman who claims she was kept as a sex slave by plutocrat Jeffrey Epstein and forced her to have sex with Dershowitz, among others, while a minor.
Dershowitz called the claims, made as part of a spearate lawsuit, "totally false and made up."
"I welcome a full investigation," he said, daring the alleged victim, Jane Doe #3, to either file charges or repeat her accusation to the press. He noted she had repeated accusations against Prince Andrew, but curiously not about him.
Dershowitz, part of Epstein's defense team in 2007, insisted he was not present at many of the occasions the alleged victim specified, something he said would be backed up by travel records. Dershowitz said her attorneys should be disbarred for failing to investigate the claim before making it in court.
"I don't even know who she is," Dershowitz said. "I've never seen her, I've never met her. Her lawyers have to know this. Her lawyers…deliberately and willfully filed this had in a pleading, which they knew I had no opportunity to respond to in court, without any investigation. If they had simply investigated the manifest of the airplanes, if they had checked my travel records, if they had asked me, and I could have given them the names of the people who are witnesses, they would know the story is totally false."
Watch the clip below, via NBC News:
[Image via screengrab]
——
>> Follow Evan McMurry (@evanmcmurry) on Twitter
Have a tip we should know? tips@mediaite.com