Dershowitz: Christie Should 'Lawyer Up,' Prepare for Criminal Prosecution over Bridgegate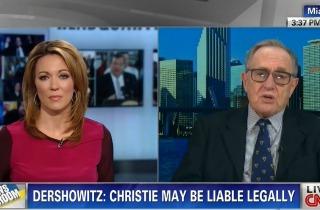 Lawyer and Harvard Law School professor Alan Dershowitz appeared on CNN on Thursday where he insisted that New Jersey Gov. Chris Christie could be held criminally liable for the death of a 91-year-old woman who passed away after being caught in traffic resulting from the closure of two lanes on the George Washington Bridge in 2013. Dershowitz said that prosecutors could hold Christie liable for "willful negligence" and recommended that he be prosecuted in New York because of the governor's "history of taking revenge."

CNN anchor Brooke Baldwin noted that Dershowtiz has already recommended that Christie "lawyer up" and prepare to face criminal prosecution over his involvement in the bridge closure. His argument centers on the death of a 91-year-old woman, but he also said that many others may have suffered as a result of the New Jersey government's actions.
"Clearly the people who originated the traffic jams and approved them are guilty and probably guilty of crimes," Dershowitz asserted. "Their actions led directly to very significant harms, particularly if they can demonstrate that the woman died as a result of the traffic jam."
RELATED: CNN's Banfield Offers 'Suggestions': 'Dangle' 'Felony Murder' Charge for Christie Officials to Coerce Testimony
Dershowitz added that those who are culpable may prefer to "save themselves" and seek a deal with prosecutors in exchange for testimony implicating Christie in that scandal. He said that that implication could be as vague as creating "an atmosphere" in which those staffers presumed that the governor would approve of revenge against the mayor of Fort Lee.
"This could put him at risk," Dershowitz insisted.
"There is a concept known as willful blindness," he continued. "It depends on the evidence and whether the two people he fired decide to get revenge and say, 'Wait a minute, we are not taking the fall for this whole thing.'"
He added that Christie should be prosecuted in New York to avoid the governor's "history of taking revenge."
Earlier Thursday on CNN, anchor Ashleigh Banfield said that prosecutors could "dangle" the charge of "felony murder," even if that was a lie, before a Christie staffer in order to compel them to testify against their former boss.
Watch the clip below via CNN:
[Photo via screen grab ]
— —
> >Follow Noah Rothman (@NoahCRothman) on Twitter
Have a tip we should know? tips@mediaite.com