Dershowitz Clashes with WaPo Reporter over Snowden, Swipes at Journalists 'Acting on His Behalf'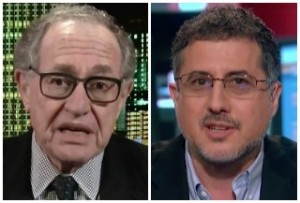 Alan Dershowitz has been on the attack this week regarding the reporting on the Edward Snowden NSA revelations, and he kept it up when both he and Washington Post reporter Barton Gellman appeared on Hardball Thursday night. Dershowitz did not go after Gellman in the same aggressive manner he's gone after Glenn Greenwald, but he did take a not-so-veiled swipe when he said that journalists doing reports on the information Snowden gave them are "people acting on his behalf."
Dershowitz agreed with the recent federal court ruling that the NSA phone program is unconstitutional "as if relates to American citizens," but "the ends don't justify the means." He kept insisting, as he and others have done for months, that Snowden had more options than just immediately going to journalists with secret documents, suggesting that Snowden could have gone on 60 Minutes and gone public with some of the information he knew about, or he maybe could have gone to superiors within the NSA.
But Gellman brought up one little tidbit from his big interview with Snowden this week: Snowden actually did that. And it didn't work.
Dershowitz also complained that disclosing the fact that the U.S. snoops on foreign leaders damages to our national security for no reason, because, he argued, it's perfectly legal. Gellman shot back that certain NSA programs being legal or illegal is irrelevant to Snowden's overall goal of giving the public a greater say in what's being done in their name.
Watch the video below, via MSNBC:
Visit NBCNews.com for breaking news, world news, and news about the economy
[photo via screengrab]
— —
Follow Josh Feldman on Twitter: @feldmaniac
Have a tip we should know? tips@mediaite.com
Josh Feldman - Senior Editor