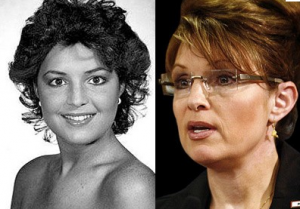 The life–and legend–of Sarah Palin will get the E! True Hollywood Story treatment on April 21, as the network turns its celebrity-loving cameras on Palin's "family, friends, classmates, colleagues and journalists" to tell the story of "the young Palin and describe her life – as a college student, sportscaster, fisherman and beauty pageant contestant" before her life in politics.
At least two friends and colleagues imply "Sarah Barracuda" wasn't always as confident and outspoken as we've come to know her since her run for vice president in 2008:

Palin's former boss, John Hernandez, sports director at KTUU TV in Anchorage, recalls "It was hard convincing the management that it was okay for a young lady to get paid to do sports in Anchorage, Alaska, but she was the best we had and they decided to give her a chance."

Dr. Lorii Ann Perin, one of Palin's friends from the University of Idaho says, "She was a natural beauty…I was surprised that Sarah had been in beauty pageants, because she was so incredibly shy. I really couldn't see her standing in front of a group of people or in front of a group of judges. And I couldn't see her wanting to be center stage."
E! promises its look at the life of Sarah Palin will cover both the known and the unknown–until now–including her return home after the election. "She came home to absolutely no friends," said Shannyn Moore, a political radio host.
The show airs April 21 at 10 p.m.
Have a tip we should know? tips@mediaite.com