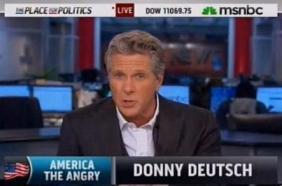 Donny Deutsch hasn't been back on MSNBC since Tuesday when a segment on his 3pmET show America The Angry featured a clip and mention of Keith Olbermann (in addition to other left and right wing supposed "angry" people).
We've learned more about the circumstances surrounding the decision – as well as what's coming next for Deutsch and the show's executive producer.
Sources inside MSNBC tell Mediaite the segment producer of the pre-produced clip that featured Olbermann tried to take the blame, but the show's EP, Gresham Striegel (formerly on Fox News) took responsibility. One MSNBC staffer said Striegel has been "such a breath of fresh air in the newsroom" since he came over to produce David Shuster's 10am and 3pmET shows, and he "legitimately cares and wants to do new things."
But by Striegel taking the blame, he was told to leave immediately – which happened to be while he was EP'ing his 10amET hour on Wednesday. Sources tell us he has not been back to work since, but we're hearing he is expected back Monday.
MSNBC did not respond to repeated requests for comment.
Deutsch, meanwhile, has been off the air as well. He is a regular on Morning Joe, however, so we'll see if he's back early next week. He was slated to moderate a panel at the NBCU upfront on Tuesday, and we hear that will continue as planned.
Deutsch did not respond to requests to comment on his status with MSNBC, but on Wednesday he told the New York Times:
"I was disappointed because I think I'm on to something really special here that needs to be done," he added, something that is neither red nor blue in terms of its politics. "It's time the purple voice is out there," Mr. Deutsch said. "Enough already."
Not that it ultimately mattered, but Deutsch's 3pmET show was up slightly in total viewers compared to the prior week and down slightly in the A25-54 demographic.
We'll have more as we get it…
—–
» Follow Steve Krakauer on Twitter
Have a tip we should know? [email protected]