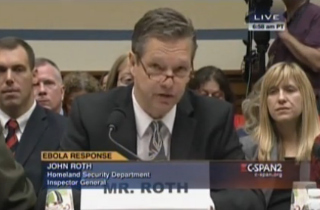 Nothing like testimony from a federal agency's inspector general to make you lose faith that government can manage anything without wastefulness and disorganization.
Department of Homeland Security IG John Roth spoke Friday morning before the House Oversight Committee's hearing on a multi-agency Ebola response. He recounted the findings of an August 2014 audit of the department's pandemic preparedness efforts, and boy does it not look good for the bureaucrats.
First some background, as explained by Roth:
In 2006, Congress appropriated $47 million in supplemental funding to DHS to plan, train, and prepare for a potential pandemic. As a result, that year DHS began efforts to develop contingency plans and preparedness to be able to protect DHS personnel who may become exposed in a pandemic. Using the appropriated supplemental funding, DHS has acquired, stockpiled, and maintained protective equipment and antiviral drugs at departmental and component levels in preparation for a pandemic response.
So how'd that program turn out, according to Roth's audit?
"DHS did not adequately conduct a needs assessment before purchasing protective equipment and antiviral drugs. As a result, we could not determine the basis for DHS's decisions regarding how much or what types of pandemic supplies to purchase, store, or distribute. As a result, DHS may have too much of some equipment and too little of others."
"DHS purchased much of the equipment in drugs without thinking through how these supplies would need be replaced… [DHS] thinks their entire stockpile of personal, usable equipment will not be usable after 2015."
"DHS did not manage its inventory of drugs or equipment: Drugs and equipment have gone missing, and conversely, our audit has found drugs in the DHS inventory that the department thought had been destroyed.
"We found drugs that were not being stored in a temperature-controlled environment. Because DHS cannot be assured that they were properly stored, they are in the process of recalling a significant quantity of them because they may not be safe of effective."
Oof. Roth noted that DHS has "concurred" with the audit's 11 recommendations and has begun to take action on one of them. You can read the audit documents below.
Watch the testimony, via C-SPAN2:

And read the full audit document below:
— —
>> Follow Andrew Kirell (@AndrewKirell) on Twitter
Have a tip we should know? tips@mediaite.com