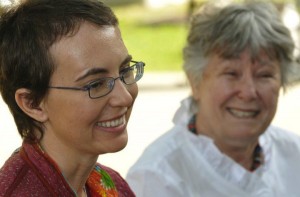 Diane Sawyer, who has earned interviews with everyone from Britney Spears and Michael Jackson to Fidel Castro and Manuel Noriega, will host Rep. Gabrielle Giffords for her first broadcast interview since January's tragic shootings. Joined by her husband Mark Kelly, Giffords will share her "story of strength, hope, and astounding resilience," a story that has "captivated the nation over the past eight months." The special will air on November 14th, in conjunction with the publication of Gabby: A Story of Courage and Hope, a memoir by Congresswoman Giffords and Mark Kelly.
Mark Giffords similarly gave his first interview after the shooting to Diane Sawyer.
Per the ABC News press release:
In a broadcast exclusive, Diane Sawyer chronicles Giffords' courageous, step-by-step journey to recover from her near fatal injury, with her husband by her side.  The broadcast will also document the couple's courtship, marriage, and extraordinary careers in public service. The Diane Sawyer special will air on Monday, November 14 at 10:00 PM ET on the ABC Television Network.
UPDATE: As it turns out, the ABC News press release overstates the possibility of Giffords appearing on camera. According to her spokesman, Mark Kimble, "Congresswoman Giffords has not decided if she's going to conduct an on-camera interview." Sawyer plans to speak with Giffords and Kelly off-camera, and then to sit down on-camera, once again, with Kelly. Giffords will make the final decision as to whether she'll join him on-camera "at some point, based on her progress" in rehabilitation.
(h/t Tuscon Sentinel)
SECOND UPDATE: An ABC Network spokesman points out that the original release called the event a "broadcast exclusive" and made no explicit promise of an on-camera interview. He clarifies:
"Both Rep. Giffords and Mr. Kelly will be participating in the special, but given the nature of her injuries and recovery, the congresswoman's exact participation can only be known as we move forward. The special will fully and respectfully document Giffords' remarkable road to recovery with her husband by her side and will include dozens of hours of video tape that document that journey."
Have a tip we should know? tips@mediaite.com