ABC News Refutes Report That Diane Sawyer 'Seriously Considering' Retiring In 2013
ABC News Refutes Report That Diane Sawyer 'Seriously Considering' Retiring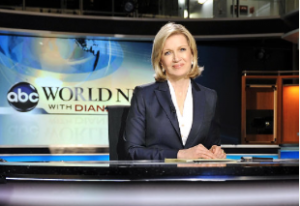 The New York Daily News, citing a "close" source, reported that ABC World News anchor Diane Sawyer is "seriously considering retiring" this year due to "personal problems." A rep for ABC, however, deemed the idea of her leaving "nonsense."
Attributing the information to a "source close to Sawyer," the Daily News noted that Sawyer, 67, is dealing with personal problems as well as her mother's illness.
"She has discussed with a few close friends and some people at ABC that she is seriously considering retiring," says our insider. "She said she'll be ready to hang it up not long down the road. She loves work and what she does and has endless energy, but she's overwhelmed with personal problems and she is thinking about leaving to take care of her family."
Meanwhile, an ABC source said there's "no diagnosis" for her mother — and a rep denied Sawyer is leaving soon.
"Diane has been going home for long weekends for years every couple of weeks, and that has not been new," says the source. "She doesn't have any plans to be taking off any time."

A rep for ABC says: "That's a bunch of nonsense as we made clear and Diane's plans for 2013 haven't changed in any way."
Sawyer previously co-anchored ABC's Good Morning America and jumped to World News in 2009. She's been with the network for over 20 years.
UPDATE: Jeffrey Schneider, SVP at ABC News, responded to the report:
"That is not true. And had the Daily News actually asked us if Diane was considering retiring we would have told them yesterday that it wasn't true."
(h/t NY Daily News)
Have a tip we should know? tips@mediaite.com