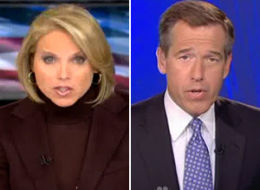 We know who will be the new anchor on ABC starting January 2010 – Diane Sawyer.
So what does her future competition think of the move? Mediaite has statements from CBS' Katie Couric and NBC's Brian Williams:
Couric got out in front, with a statement emailed to Mediaite from her publicist. With a fellow female anchor joining the ranks, Couric will likely be a focus of many of the Sawyer stories that come up over the course of the next few months:
Ever since my days as a desk assistant at ABC News, I've always admired Charlie's work. He's a talented reporter, a gifted communicator, and a wonderful person. I wish him all the best.

Diane is one of the hardest-working people I know and this new assignment is the latest achievement in an already accomplished and illustrious career. And as I did, I'm sure she'll quickly find that she doesn't miss that early morning alarm clock.
We also asked NBC for a statement from Williams – who is currently out in California covering the wildfires. This is what he said:
I would love to say that ABC's loss is NBC's gain, but then they went and appointed Diane Sawyer to replace Charlie Gibson. That doesn't lessen the competition one bit.

Charlie is a pro, and he's been the most able competition anyone could ask for. Diane is no different – a legendary name in our business for decades – and now we'll have to work every bit as hard every day to put on the best newscast possible. This is more evidence that the competition has never been more robust among the three network evening newscasts, and it keeps us all sharp, aggressive and on our toes. Congratulations to Charlie, congratulations to Diane, and Katie and I will continue to work hard every day.
Very gracious, as expected. Let's see what happens in February 2010 when they're competing against each other during sweeps.
—–
» Follow Steve Krakauer on Twitter
Have a tip we should know? tips@mediaite.com