Dianne Feinstein Talks To CNN About 'Uphill Fight' For 'Assault Weapons' Ban, Slams NRA And LaPierre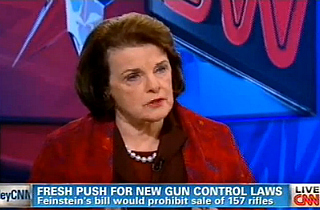 The Sunday after she officially proposed her "assault weapons" ban, Sen. Dianne Feinstein (D-CA) appeared on CNN to discuss her "uphill fight" to get such legislation passed, slamming the National Rifle Association and its leader Wayne LaPierre as self-interested impediments to her desired new restrictions.
Given that the president's first major policy speech is expected to be focused on immigration, host Candy Crowley challenged the senator on whether gun control "legislative priority" or just a "rhetorical priority" like it has been.
"This has been an uphill fight," Feinstein replied. "This has never been easy. This is the hardest of the hard," she added before explaining that her ultimate goal is not just to prohibit certain "assault weapons" but to make sure it is "comprehensive" in addressing gun violence in America.
"We do have support," Feinstein declared, "so don't mistake it."
Crowley then noted that "the assault weapons ban in particular is a very tough road, because it's not just Republicans, it's fellow Democrats."
Feinstein pointed the finger at the gun lobby: "The NRA is vehement. They come after you; put large amounts of money together to defeat you."
"Is the NRA venal," Crowley asked, "or do they disagree on a matter of policy?"
Feinstein's answer seemed to indicate she believed the former: "The NRA has become an institution of gun manufacturers. This morning on the front page of the New York Times, I was reading about their program now to provide weapons and training for youngsters from 8 years old to 15 years old, and this is supported by the gun manufacturers. In other words, 'Here is a whole new group of people for me to get these weapons to.'"
Asked what she will say to LaPierre when he appears before Congress, Feinstein recalled her past debates with the gun advocate, said she "doesn't know at this time" what she'd ask, and then attacked the lobbyist's history of not changing his opinion despite the "epiphany" many people experienced after Sandy Hook, realizing that the laws are not working effectively and we "have an obligation to protect children."
Feinstein also suggested she has no intention to take up the NRA's proposal of armed guards in schools, saying it "isn't really the whole answer."
Watch below, via CNN:
— —
>> Follow Andrew Kirell (@AndrewKirell) on Twitter
Have a tip we should know? tips@mediaite.com