Dick Cheney Backs Drones — But Hits Obama For Wanting To Do 'Serious, Serious Damage' To Military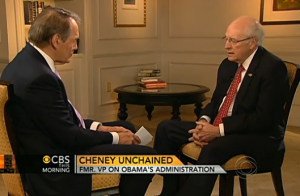 Former Vice President Dick Cheney spoke to CBS This Morning's Charlie Rose in an interview that aired on Tuesday. Asked about President Obama's drone program, Cheney expressed support. But when it came to the president's nominations, Cheney reiterated his earlier criticisms.
"I think it's a good program," Cheney said of drones. Asked about whether there should be "checks and balances," Cheney said no.
"No, I think when we hire the president of the United States — he gets to live in the big house, makes all that money. He is getting paid to make difficult, difficult decisions," he said.
Rose went on to follow up on the earlier remarks Cheney made about Obama's nominees being "second-rate people." Cheney said he's concerned about the country in terms of national security.
"I think the administration's policies are terribly flawed," he argued, and Obama's performance in the international arena particularly.
"Is the problem with the president and his policies or is it with Chuck Hagel, John Brennan — John Kerry?" Rose asked.
"The president picks the people that he puts around him, too," Cheney replied, later adding, "My guess is, if you look at what the president's motives are for picking Chuck Hagel, I think he wants a Republican to go be the — the foil, if you will, for what he wants to do to the Defense Department, which is I think to do serious, serious damage to our military capabilities.
Obama, he said, has made his choices partly "based on people who won't argue with him."
Take a look, via CBS:

Have a tip we should know? tips@mediaite.com